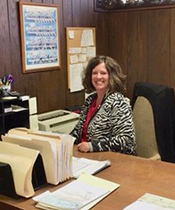 Janet McIntosh
Janet McIntosh has been involved in the real estate closing process for many years. She holds a BS in Management, an Associates Degree in Paralegal Studies with extensive experience in estate probate processes and procedures. She is straightforward, innovative and resourceful in processing closings from the title commitment to the preparation of the closing documents and finally the disbursement of all expenses associated with the completed sale. She is rational in her thinking, has good judgment and exercises sound reasoning in her work with clients. Janet maintains a high standard of accuracy and precision in each closing she manages and each estate she probates.
In her free time, Janet enjoys gardening, working in and around her home and spending time with her family, dogs and cat.
Email : Janet@KendallPage.com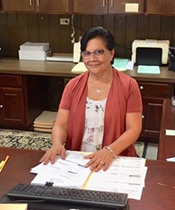 Alexandra Elder
Alexandra Elder brings a strong and diverse set of assets to our office, with twenty-five years of experience as a closing specialist and title paralegal. Her commitment to customer service and her broad management skillset creates a confidence in her clients and her peers through each transaction. As a bilinguist in English and Spanish, she is able to reach across to those individuals, communities and cultures that are so important to our region and our office. Her quiet and steady approach to her work and each client makes the closing process enjoyable for those having the opportunity to work with her.
Alexandra is the mother of 4-children and grandmother to 12-grandchildren. She loves her rescue shih tzu Charlie, enjoys the outdoors with her spouse, as well as crafts and loves living in the triangle area.
Email : Alexandra@KendallPage.com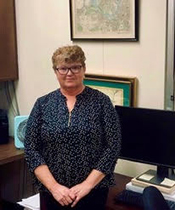 THERESA DOLAN
Theresa Dolan comes to us from Maine with 26 years of experience and extensive knowledge in real estate transactions. Her paralegal career has included managing residential and commercial closings for multiple attorneys with significant volume, demanding the highest level of focus to detail, deadlines, and schedules. She has also managed transactions and schedules for multiple attorneys in a title company resulting in a broad skillset and keen perspective in real estate standards. She moved to this area in the fall of 2020 and is excited to find her way back into the real estate industry in North Carolina. Theresa offers our office and our clients professional interaction and management of their closing process with the commitment to eliminate surprises, complete all details within the timeline outlined and conclude a successful transaction as an enjoyable experience for all involved.
Theresa enjoys time with her adult son Austin and her extended family here in North Carolina. She loves the outdoors and activities such as swimming, walking trails and riding her bicycle. Theresa also has a great appreciation for music and the arts.
Email : Theresa@KendallPage.com